Noise Measurement Course
From noise measurement to proper documentation, this course which is sanctioned by the CAOHC council, conveys the most important elements of noise exposure information for an effective hearing conservation programs.
The course encompasses nine (9) different modules. Each one includes a lesson, followed by a test. All nine modules total 140 minutes of lesson time, testing time differs based on the individual.
After successful completion of the course, the participant will be able to download a certificate.
Pricing:
$400 ea. course for non-members (anyone who does not fall into the categories below).
$300 ea. course for CAOHC members (Certified Occupational Hearing Conservationist, Course Director, Professional Supervisor, past or present Council member, or member of any one of our Component Professional Organizations CPOs).
$200 ea. course for Military (

US Army, US Navy, US Air Force, US Marine Corps, US Coast Guard, and MAA)

.
Multiple person corporate rates: contact the CAOHC office for details at (414) 276-5338.
Purchase 3 Noise Courses, receive 1 FREE!
Registration fee includes:
Access to all modules for six months
PDF versions of all PowerPoint presentations
All quizzes
Certificate (once course is completed)
This first module is Complementary!
Noise Measurement Course
Module 1 - Course Overview
Complementary module introducing the Noise Measurement Course.
Noise-exposure assessment is a critical part of effective hearing conservation programs (HCPs). By understanding the risk of noise exposure, you can take appropriate measures to protect the hearing of people in your program.
Noise Measurement Course
Education Courses
Noise Course Modules
You will have access to this course for a total of 6 months from your date of registration. Access will be time out after this.
Module 1 - Course Overview
Complementary module introducing the Noise Measurement Course.
---
Module 2 - Basics of Sound and Acoustics
Sound is a complex phenomenon with many different aspects. This module will help you understand the basics of how sound works so you can accurately measure noise.
Learning Objectives
On successful completion of this module, you will understand:
Sound production
The parameters and physical descriptions of sound
The psychological or perception-based descriptions of sound
The definition of hazardous noise
---
Module 3 - Metrics, Measures and Regulations
This module links the concepts learned in the Module 2 (Basics of Sound and Acoustics) to noise-control regulations and compliance. It addresses the terms and metrics used in regulations and briefly describes some regulatory requirements for collection and reporting of noise-exposure data.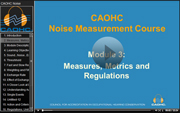 Learning Objectives
On successful completion of this module, you will understand:
The role of noise-exposure information in regulations and how it drives compliance
The terms and metrics specific to regulatory compliance in noise
How differing regulatory criteria can affect noise surveys and data collection
---
Module 4 - Instrumentation
Selecting the right tool is an important part of your noise-measurement project. This module describes the different kinds of noise-measurement equipment and helps you select the right tool for your purposes. To perform quality noise-exposure assessments and noise-control measurements, it is important to understand the instrumentation.
Instrumentation is available from many manufacturers; use of graphic depictions or examples from any manufacturer is not an endorsement of that product. The discussion in this module is geared towards equipment that meets the standards of industrial hearing conservation.
A variety of devices measure sound levels (eg, smart phone applications, noise indicators). These devices typically do not meet the performance standards required for industrial hearing conservation, environmental community noise surveys or product noise evaluations.
Learning Objectives
On successful completion of this module, you will understand:
The differences in noise measurement instrumentation
How to select appropriate instrumentation for any given situation
---
Module 5 - Approaches to Noise-Exposure Surveys
Now that we understand the issues surrounding noise-measurement instrumentation, we turn to the collection of noise-exposure data. We must address three critical questions:
Whom do I sample?
How many samples do I need?
How do I manage the results?
This module describes different approaches to collecting noise-exposure data and helps in the selection of a methodology appropriate for the workplace.
Learning Objectives
On successful completion of this module, you will understand:
Alternative data-collection methods
Advantages and disadvantages of each method
How to select the data-collection method appropriate for the environment being tested
---
Module 6 - Data Reliability and Basic Statistical Analysis (Using Statistics)
Once you have collected the data, what conclusions can you draw from it? Can you identify people whose noise exposure crosses critical boundaries? Can you identify jobs or locations with excessive noise levels? Have you measured every possible variable that could affect noise levels?
A light dusting of statistics can help make sense of all the information you have collected.
You do not have to be a statistics expert to do noise measurements and surveys, but a basic understanding of some of the principles of statistical analysis can help you use your data.
Learning Objectives
On successful completion of this module, you will be able to:
Select appropriate data-analysis procedures to help you make decisions
Apply simple statistical methods to assign noise exposure to groups
Draw risk-based conclusions regarding HCP administration

---
Module 7 - Advanced Methods (Octave Band and Engineering Approaches to Noise Measurement)
When noise is measured to provide information for noise-control applications, or when the noise signal has specific characteristics, you may need to go beyond sampling to establish typical worker noise exposure.
In these situations, you may need to characterize the frequency content of the noise signal. For some signals, A-weighted, slow-response measurements may prove inadequate. This module provides background on more sophisticated noise-measurement techniques.
Learning Objectives
On successful completion of this module, you will understand:
The background and application of advanced noise data-collection techniques and determine when those methods are appropriate
How to select a method, including instrumentation and techniques
When it is necessary and appropriate to consult an expert
---
Module 8 - Basic Noise Control
Noise control is an active or passive means of reducing sound emissions, often incentivized by personal comfort, environmental considerations or legal compliance. Practical and efficient noise control relies on an accurate identification of the source of the noise. Then you can reduce the noise at the source through engineering controls.
The goal of this module is to provide a basic understanding of noise control and options for controlling excessive noise in the workplace.
The information will provide some of the tools needed to address noise-control challenges through information on source/path/receiver approaches.
Learning Objectives
On successful completion of this module, you will understand:
The hierarchy of controls and how to prioritize noise issues
How to apply the information to real-world situations
When to call in specialized expertise in noise control
---
Module 9 - Documentation and Reporting
Documentation of noise sampling is an important part of the noise-measurement process. Consider who will use the report, which information will be used often, and which information needs to be retained but is not often used. Make these decisions based on the various disciplines (eg, safety, medical, industrial hygiene, government inspectors).
Noise surveys provides information that can be analyzed and used to develop noise-control measures. In addition, it should provide complete and descriptive details so that future survey data can replicate past survey data and provide a useful trend analysis reflecting ongoing operational changes.
A key application of the information is to provide supporting data demonstrating the company's HCP.
One of the most important applications of survey findings is the identification of noise-exposed workers for inclusion in an effective HCP. The survey findings should reflect regulatory compliance and provide useful information to help determine work-relatedness of hearing loss to define the workers compensation risk to the company.
Learning Objectives
On successful completion of this module, you will be able to:
Develop noise survey reports for a range of uses
Understand how the data will be applied

Who will use the data
How user needs affect the nature and format of the noise-survey report
Noise Measurement Course
Learning Objectives
On completion of this course, you will understand:
Why we measure noise
The importance of noise exposure information in hearing conservation program (HCP) management
How to select measurement equipment and procedures appropriate for your environment
Terms used to describe noise and noise exposure
This course is not intended to make you an expert in acoustics or noise-control engineering. You will, however, know how to:
Make basic noise measurements
Make appropriate decisions about who should be in your HCP
Identify basic noise problems and manage these issues
Report what you measure in a meaningful way
This course will not teach you how to operate your specific noise-measurement equipment. We recommend that you contact either a noise-control engineer or an industrial hygienist in your area for professional guidance if you have questions beyond the scope of this course.
Noise Measurement Course
Contributors
CAOHC thanks everyone who made this course possible through their countless hours creating text, reviewing, editing and recording all nine modules.
American Industrial Hygiene Association
Chandran Achutan, PhD
James Banach, MBA
Lee Hager
American Society of Safety Professionals
David Lee, MIS CIH, CSP (retired)
Ronald Schaible, CIH, CSP
Institute of Noise Control Engineering
Robert Bruce, PE EE Bd. Cert. INCE
Noel Hart, MS Mem. INCE
J. Adin Mann, III, PhD
Charles Moritz, MS Bd. Cert. INCE
Kimberly Riegel, PhD Mem. INCE
Marquette University
(Module recording)